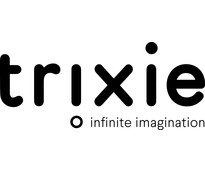 Trixie
Trixie
infinite imagination
Inspired by the infinite imagination of a child, our broad range of products creates a playground from which your imagination can take flight.
At Trixie, we are fascinated by a child's endless imagination. From newborn to teen, children own this immense fantasy, that they use to discover the world around them. We want to celebrate this fantastic characteristic and join children in their world of imagination and creativity, as it is such an enriching experience.
Trixie believes in a future oriented and holistic approach. We coordinate the complete design and development process ourselves to make sure our developments are perfectly in tune with our values. When designing, we strive to understand and take into account the needs of today's parents and children. We carefully follow up on the lifeworld of young parents. This results in products that have a good fit with their lifestyle and fulfil all essential product functionalities.
Our holistic approach also comprises a profound respect for the planet. We believe responsible choices need to be made in order to ensure a healthy future for our grandchildren. We therefore only use high quality materials and inform our customers on how to prolong the lifespan of products to the maximum. This way our products are durable to withstand all the tough love of your little ones and can be passed down for generations.
Trixie offers everything you need to welcome a little newborn, to spoil your toddler or send your first grader to school with! You can rely on Trixie for all the bedroom essentials, decorative elements, qualitative bath and nursery products, all must-haves for a cozy mealtime and handy accessories for when you're out and about.
Colours are key. Carefully selected colours result in a range of products that combine beautifully allowing you to create your own playground from which your imagination can take flight.