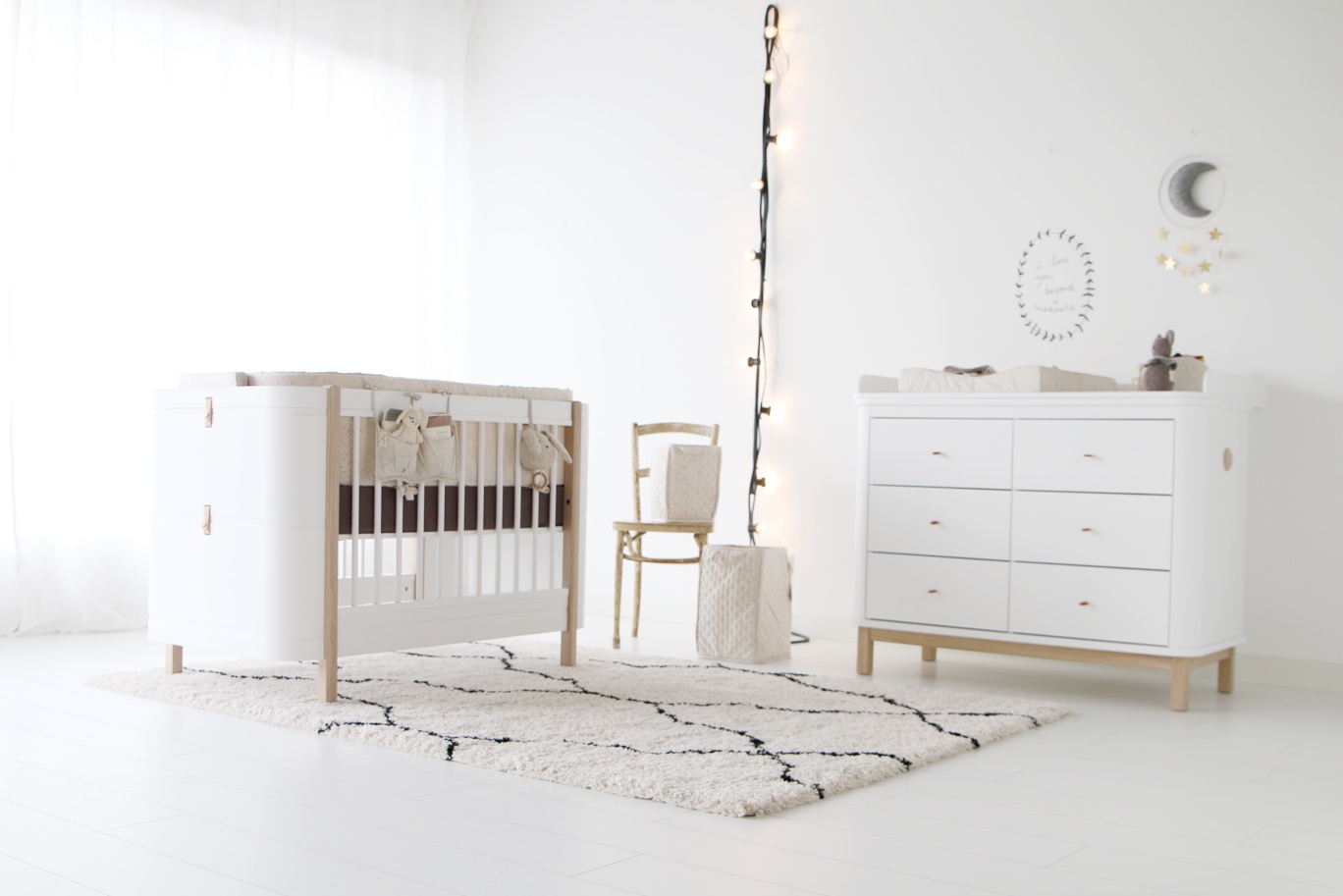 Het in 2017 geïntroduceerde Mini+ ledikant is wat ons betreft the best of many worlds. Hij is iets breder dan een standaard ledikant, net als het populaire Deense Juno (Sebra Kili) bed maar hij kan ook doorgroeien naar een volwaardig laag juniorbed, zoals het Leander bed. Echt een ideale mix van twee designtoppers en dan in een briljant ontwerp met prachtige details zoals de stoere lederen gespen en als je voor de eiken versie kiest de prachtige eikenhouten poten. En dan hebben we het nog niet gehad over de conversieset om er een junior hoogslaper van te maken! Hoe fijn om ook in een klein kamertje toch een stoere hoogslaper te kunnen zetten zonder dat de kamer direct helemaal vol staat. Stoer slapen al op jonge leeftijd en de hoge zijkanten maken de hoogslaper veilig en knus.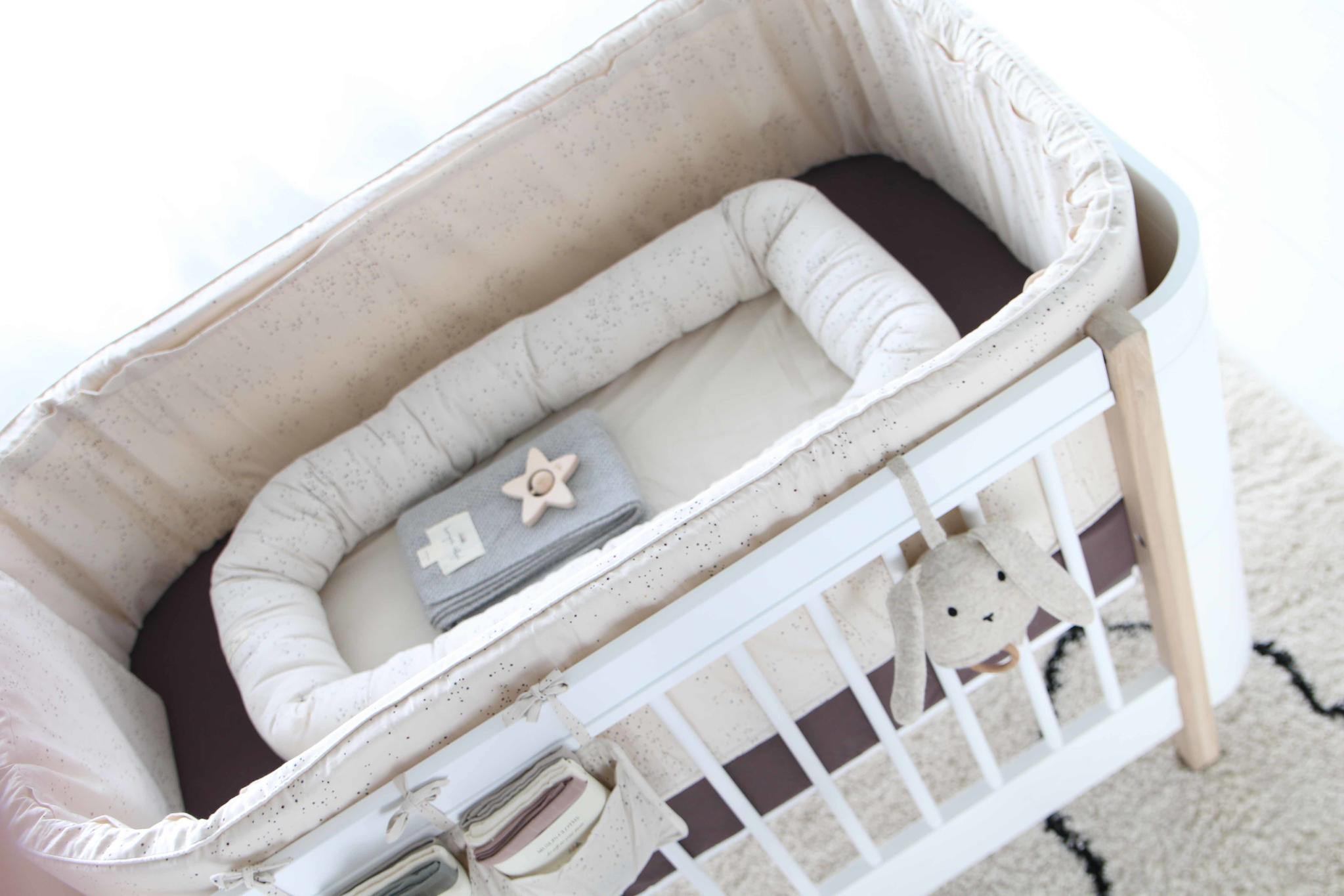 De rest van de Wood collection van Oliver Furniture sluit natuurlijk naadloos aan bij deze nieuwe designtopper voor de babykamer. Je kan kiezen uit twee commodes, de 4 laden versie of de grote jongen; de 6 laden variant. De kledingkasten zijn er in 3 uitvoeringen; de lage en minder diepe – die later ook prima als speelgoedkast op de gang dienst kan doen – 3 deurs kast, de grotere 2 deurs en de master of storage; de 3 deurs kast. Allen met fijne soft close lades en deuren zodat je stilletjes 's avonds nog wat schone spullen kan opbergen en je kind niet wakker wordt van dichtslaande deuren of lades die net te hard dicht gaan.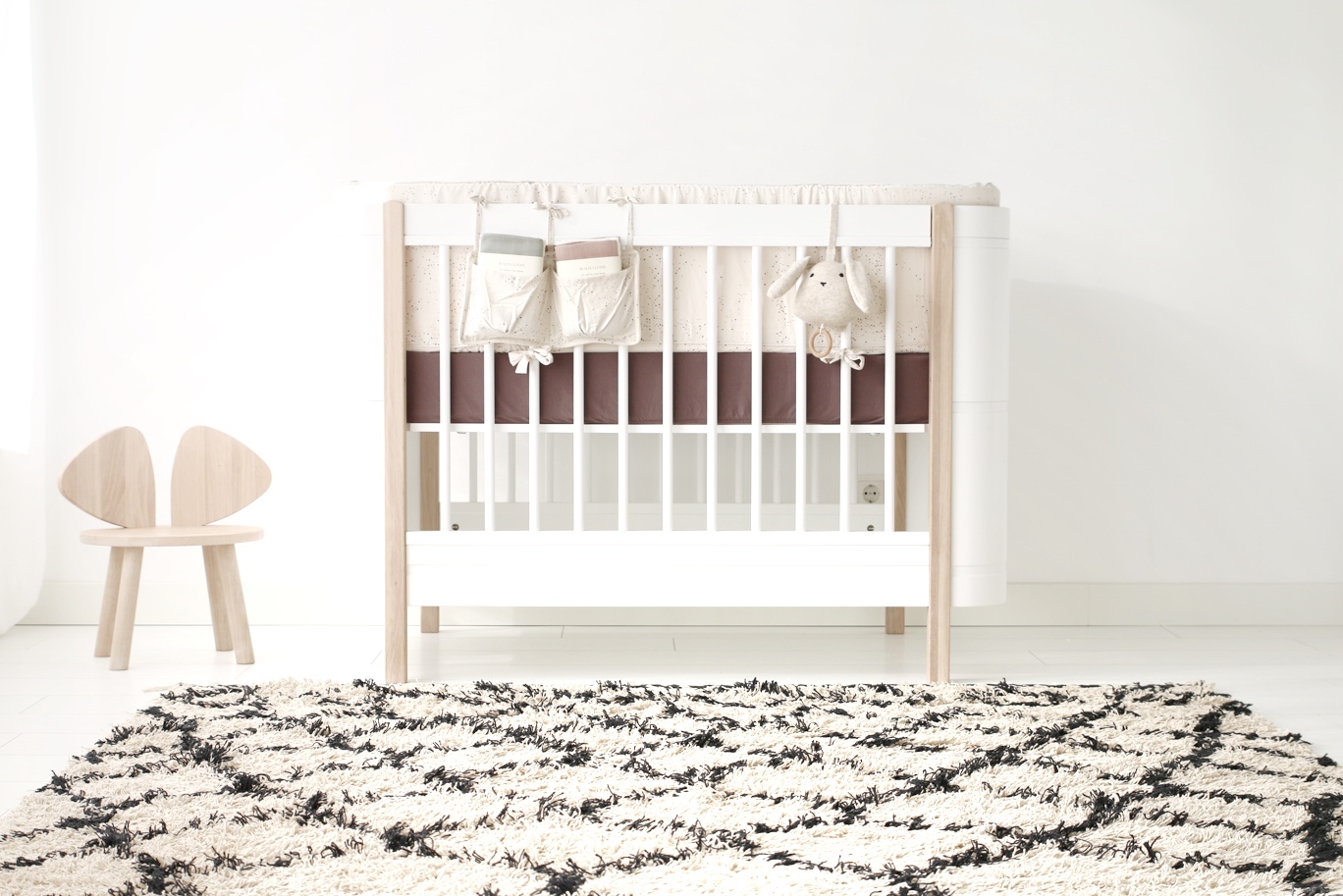 Wat ons betreft echt een homerun van Oliver Furniture. Met alle honken vol. Heerlijk zo veel doorgroei mogelijkheden. En als je kind uit de Mini+ hoogslaper is gegroeid kan je natuurlijk naadloos door naar de grote bedden van de wood collection.

Instant love, that's the best way to describe our feeling when we discovered Oliver Furniture three years ago. CozyKidz became one of the first resellers of this Danish brand and we soon found out that our customers feel the same. The amazing design and the high quality of their furniture convinced many of our showroom visitors and thoughout the years we delivered many great nursery and kidsrooms to house the new generation. Last summer our heart skipped a beat when we received the presentation of the newest member of the Wood collection; a bed that grows with your child and even takes on the sky!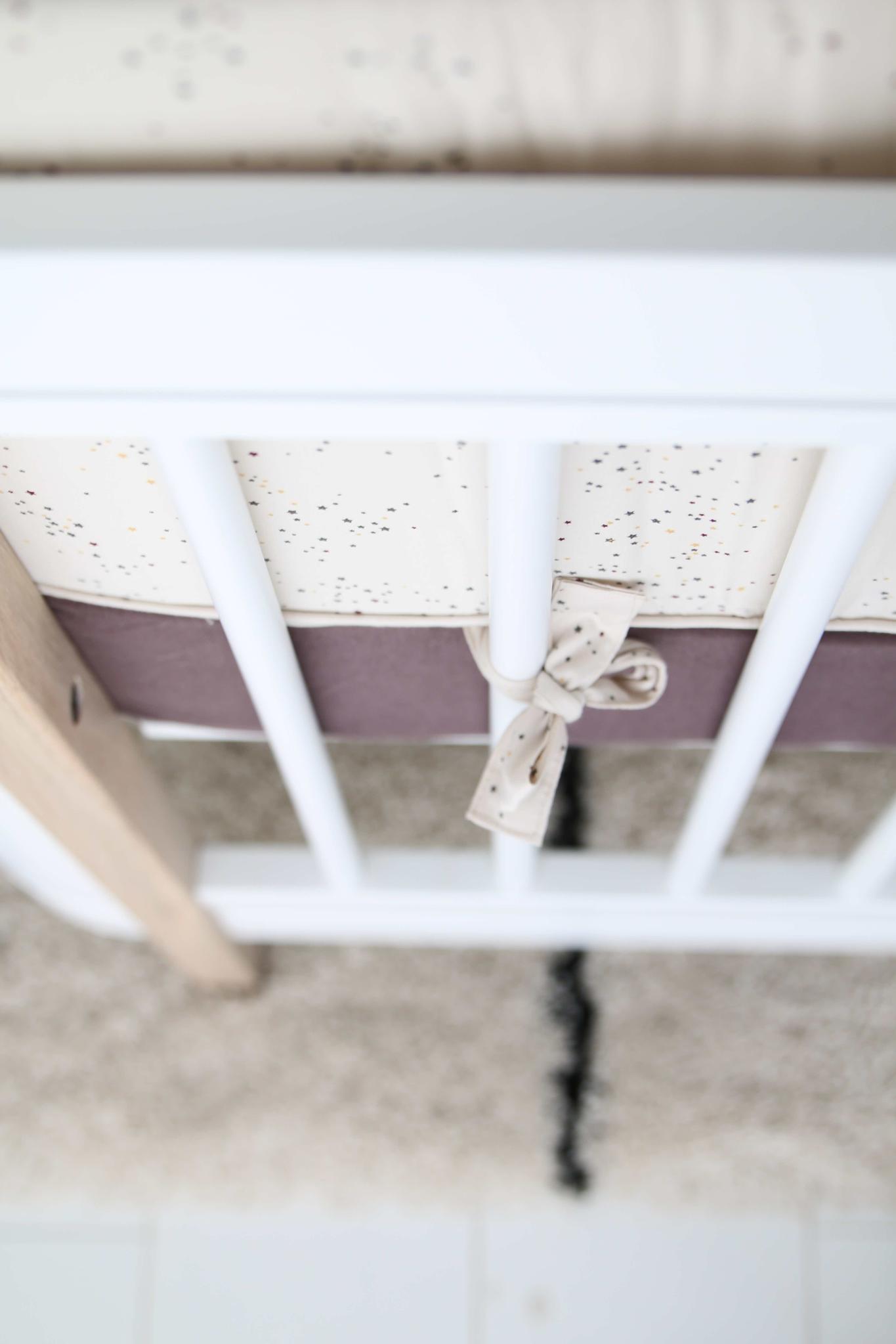 The Mini+ was introduced in the fall of 2017 and if you ask us it is the best of many worlds. It's a bit wider than a standard size cot, just like the immense popular Danish Juno (Sebra Kili) bed. Besides this feature it also converts into a great low juniorbed like the Leander bed. A real perfect mix of great features in a brilliant design with great details such as the leather clasps and – if you choose the oak version – the stylish high end oak details. And have we mentioned the conversion kit you can purchase to turn it into a unique bed; the junior low loft bed? A great way to create some extra space in your little ones room but still have a nice and cozy bed while they are still little.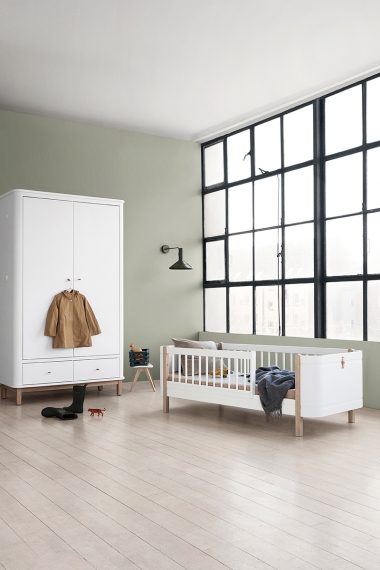 The rest of the Oliver Furniture Wood collection ofcourse matches perfectly with this new design gem for your nursery or babyroom. You can combine it with either the 4 drawer or 6 drawer dresser with nursery top. The cupboards are available in 3 sizes; a slim low version with 3 doors that can also easily move to the hallway to become a toy or shoe closet after serving it's time in the nursery, a 2 door large cupboard for more clothes and the master of storage; the 3 door cupboard. All have great soft close drawers and doors so you can slip in at night to put away some freshly washed clothes and not worry about waking your child with a loud drawer or door.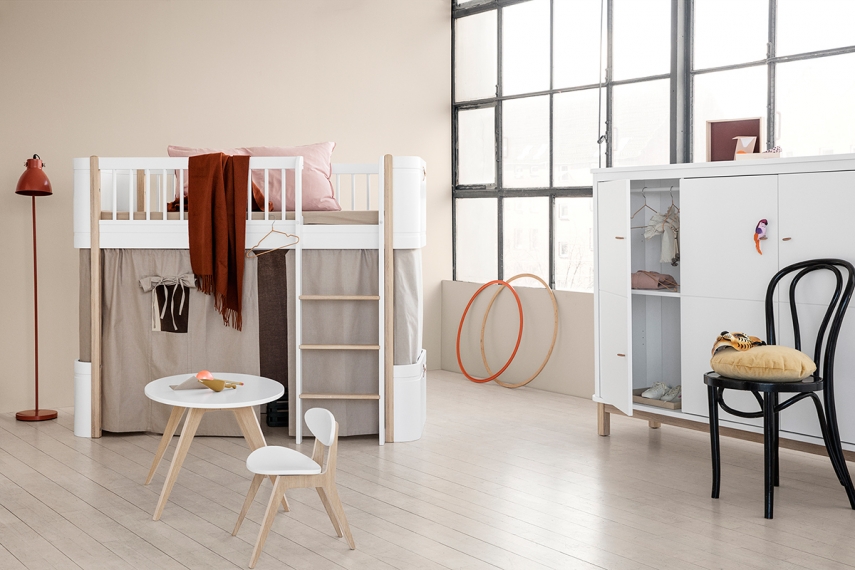 We feel that Oliver Furniture really hit a homerun with all bases loaded with the Mini+. We love the possibilities and when – after many years – your child outgrows it you can easily move on to the larger beds in the Wood Collection.