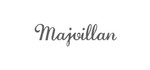 the big blue dusty turquoise wallpaper
€83,50 21% VAT included
in stock
4-5 working days
free domestic shipping
Gorgeous quick up wallpaper by Swedish designer Charlotta Sandberg for Majvillan. The wallpaper has a very beautiful surface where you can feel the color structure with the bare hand.

The wallpaper is made in Sweden and printed on non-woven material with colors that are water-based and completely free from solvents and PVC. Excess color is managed in an environmentally sound manner and paper waste is converted into heat. 

NB: To prevent color differences this wallpaper is only available on backorder. Because it's ordered especially for you we cannot accept returns or cancellations. 


0
stars based on
0
reviews
fast shipping
free inzzzpiration!
get a refund
worldwide shipping
you're bound to love these too
love at first sight