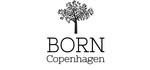 bed bumper night sky
€95,00 21% VAT included
in stock
order before 16.00 delivery next day*
free domestic shipping
The BORN Copenhagen bed bumpers are designed to fit most of the standard cribs on the market. They provide a cozy and safe sleeping environment for the little ones, making sure thattiny arms and feet does not get caught in the bars of the crib. 

These bed bumpers are 4 cm thick. They have hidden zipper closures on the ends, butdo not worry about the washing situation. They have covered the foam with a smoothwhite cover to ease the process of applying the cover to the foam. Please note that there are no strings to attach the bumper to the cot since the bumper will stand on it's own due to the fact that it's 4 cm thick. 

This design is both beautiful, practical and functional and we are sure you will love it and appreciate the high quality and attention to details. As with all of their other products they have designed this with focus to all details, which is why the inside seams are finished with French seams. This not only provides an exclusive look and feel, but also makes it stronger, adding to the durability of it.


0
stars based on
0
reviews
fast shipping
free inzzzpiration!
get a refund
worldwide shipping
you're bound to love these too
love at first sight