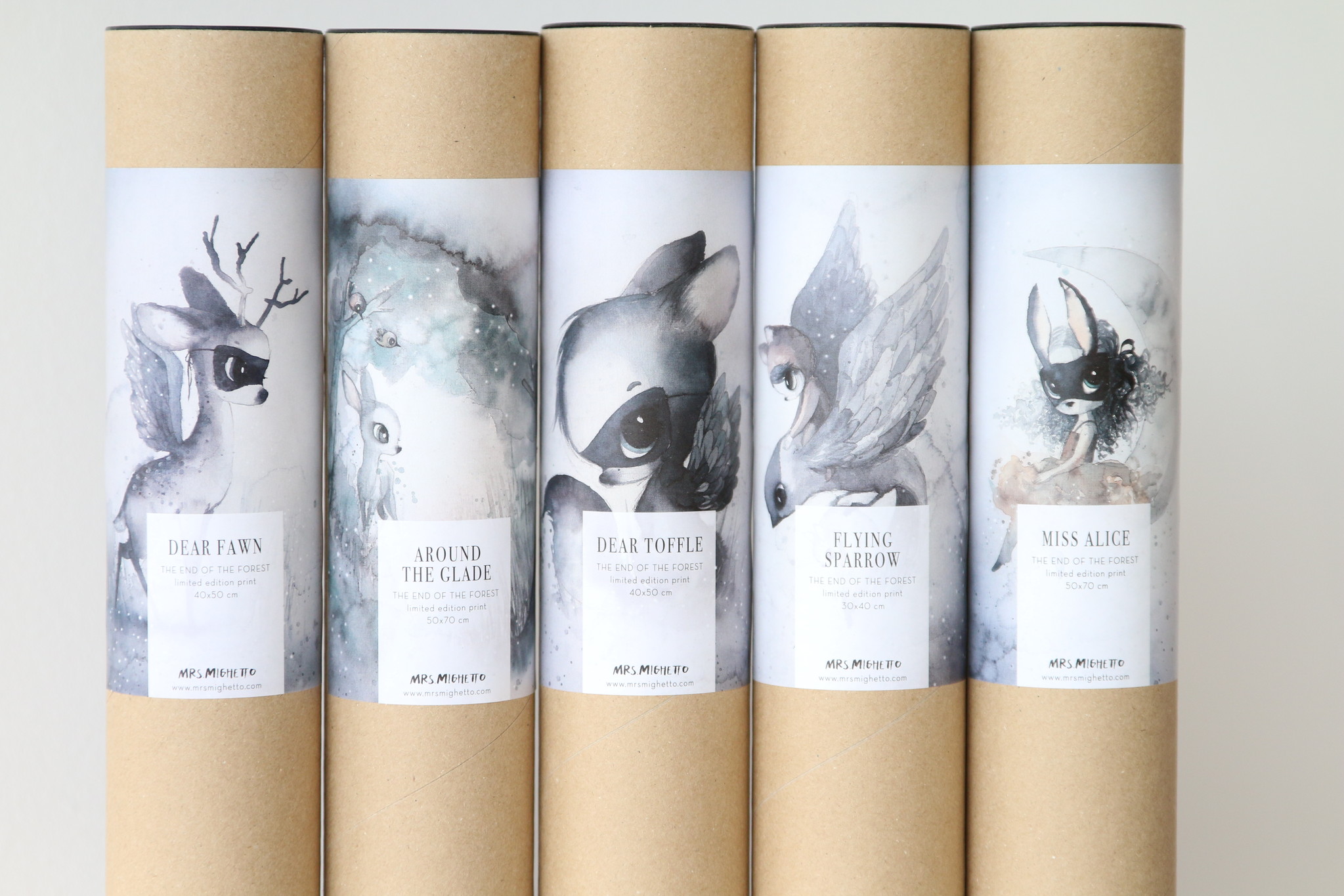 Het verhaal achter de The end of the forest collective:
Er is geen kortere weg die je hiernaartoe brengt. Ook is er geen weg terug als je eenmaal gearriveerd bent. Het land in de lucht is de eindbestemming. Maaar alleen voor de uitverkorene. Het verhaal over dit mythische land kent men in heel het bos. Het verhaal over wat er aan het eind van het bos gebeurt. Vele duizenden jaren wordt de ingang beschermd door bijzondere wachters, en ieder van hen beschikt over een bijzondere gave. Ook wordt er gewaakt door de jongen die nooit slaapt, het hertje dat in de toekomst kan kijken en het enorme wezen dat wegen kent waar niemand anders weet van heeft.
Diep in het land van de lucht zweven twaalf gewichtloze eilanden. Hier kan je wel een vriend gebruiken met vleugels die je helpt om van het ene eiland naar het andere te komen. Charlie woont op het Green Scone eiland en kent de wegen die tussen de lente en winter lopen. Op het eiland Knowledge ontmoet je Vera, die je troost wanneer je iets bent verloren of iemand bent verloren terwijl haar soulmate Alice deze wereld die misschien wel het best bewaarde geheim allertijden is goed bewaakt.

It's that time again! In just a couple of hours the new Mrs Mighetto collection will premiere again. And ofcourse we – as one of the first resellers of these gorgeous posters for your kidsroom or nursery – can't wait to start selling these beauties to you! About two weeks ago the boxes full of gorgeous posters arrived and I really had to convince myself not to keep all of them for myself. I just love each and every character so much! Check out our webshop to read all about each individual creature. But this is the general story behind this new whimsical world they've created.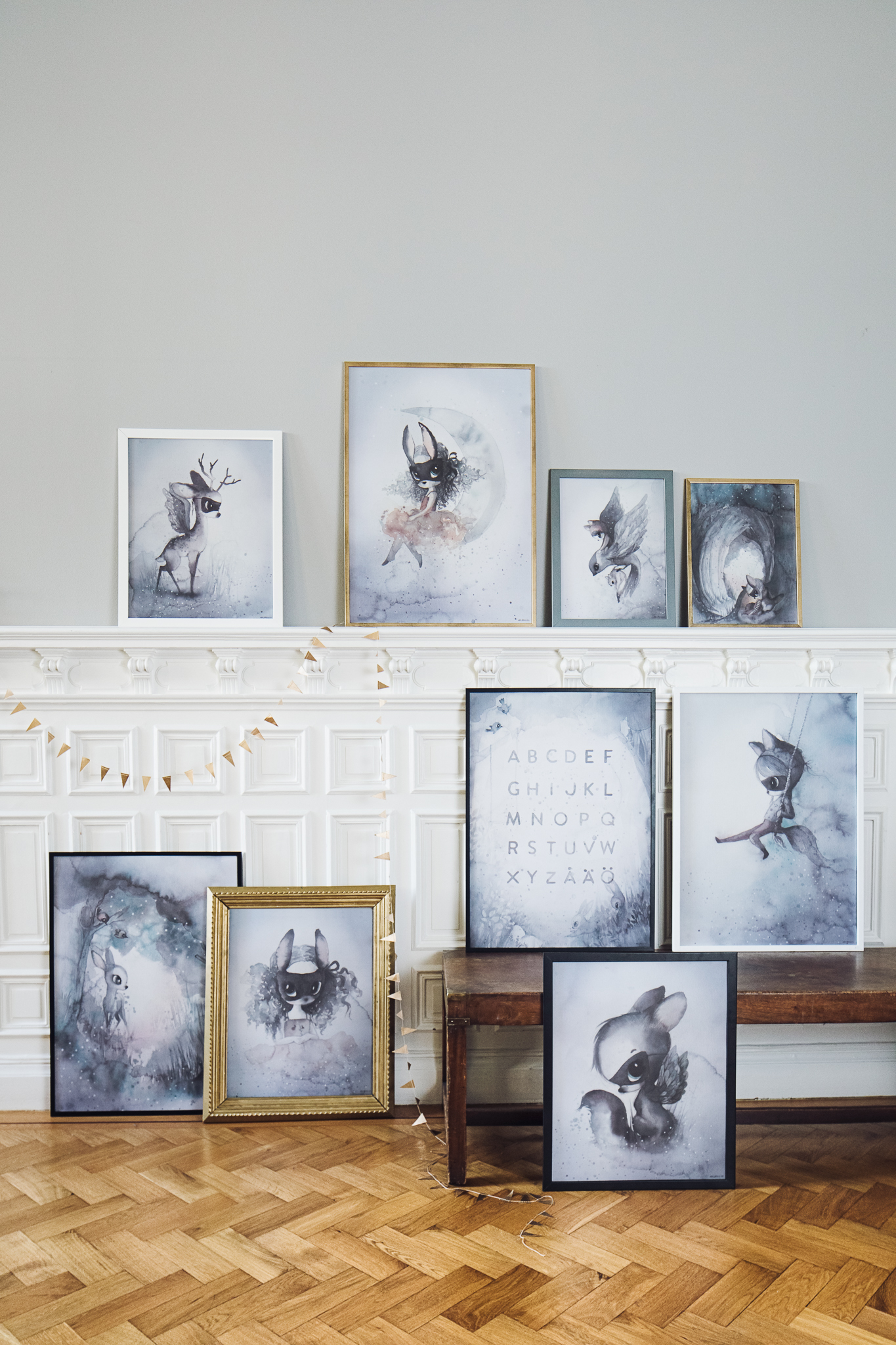 The end of the forest story:
There are no shortcuts that will take you there. Nor is there any way back once you finally arrive. The Land in the Sky is the final destination. But only for the chosen few. The story of this mythical land is well known throughout the forest. The story of what happens at the end of the forest. For millennia the entrance has been protected by seasoned, valiant guards, all of whom possess special gifts. It's also watched over by the boy who never sleeps, by the roe deer who sees into the future and by the enormous creature who knows ways
no one else knows.
Deep within the Land in the Sky, twelve islands float weightlessly. There, you'd do well to find a friend with wings to help you move between the different islands. Charlie lives on Green Sconce Island and knows the paths that run between springtime and winter. On the Isle of Knowledge you'll meet Vera, who offers comfort when you've lost something or someone from the other side, while her soulmate Alice watches this world that seems to be
the best-kept secret of all the ages.